Medical gases delivery system for Imperial West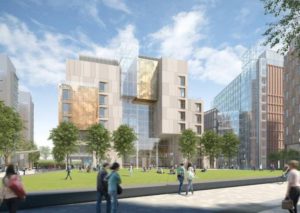 Imperial West is Imperial College London's major new campus located in White City, Hammersmith. The development will comprise of nine new buildings, which will provide multi-disciplinary research space for Imperial scientists and engineers.
The building modules are being manufactured offsite to reduce costs and minimise disruption to the busy surrounding area. Medical Gases pipework will be installed inside the relevant modules at the manufacturing facility.
Medical Gases is designing, supplying delivering, installing, testing and commissioning the nitrogen, compressed air, and laboratory gas systems at Imperial West, Build C.   The special gases consist of 350 individual gas manifolds to feed over 3200 outlet points.
Project: Imperial West – Block C, London
Client: Crown House Technologies
Value:  £2,600,000